Nursing Students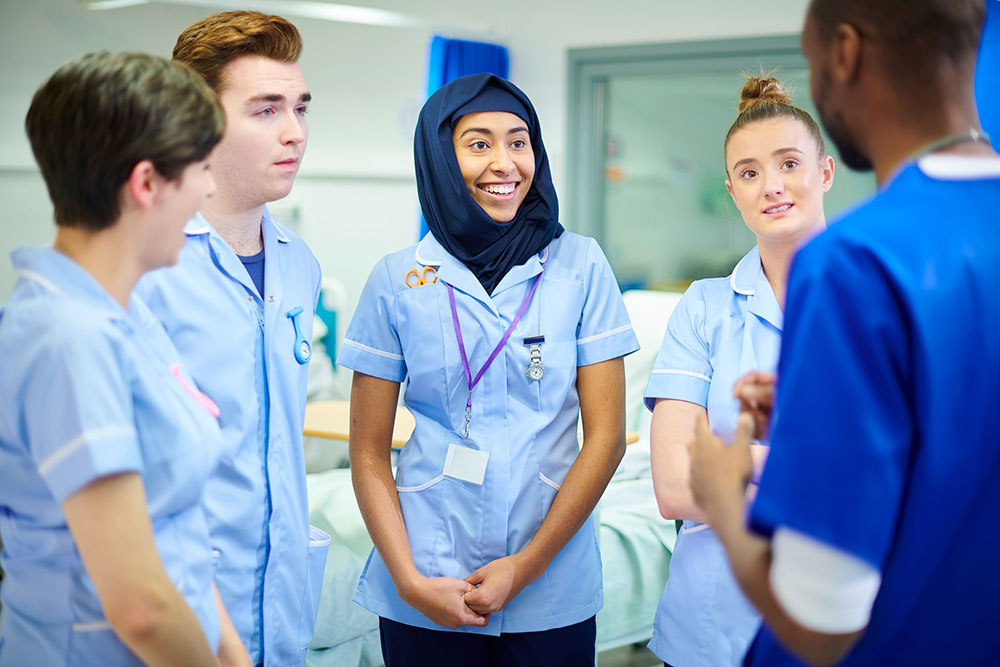 Nurse Internship Program
Enhance your nursing education through the Sanford Student Nurse Internship Program.
You will experience the day-to-day life of an RN in a variety of roles and settings. This hands-on, 10-week, paid internship will expand your clinical skills and knowledge under the guidance of an experienced nurse preceptor.
If you've completed your third year of a baccalaureate-nursing program and have had a minimum of two semesters of clinical experience, this is a great opportunity to make a difference for those served in your care and to strengthen your clinical skill set. ADN students within 1-2 semesters of graduation may be considered for placement in our network Critical Access sites.
The application process starts every fall semester, typically between September and October.
About the Program

Objectives
To develop confidence and competence in senior level nursing students through hands on experience in a medical center and/or clinic.
Gain experience and skill within actual patient care situations, clinical simulation and classroom sessions.
Assist senior level nursing students in finding an area of nursing practice that best fits their career goals, talents, and interest thus promoting a smooth transition upon graduation into practice.
Work in partnership with an RN preceptor serving as a personal clinical coach.
Network with peers from other colleges and universities both regionally and nationally.

Details
Orientation
A comprehensive hospital and nursing orientation is provided to acclimate you to Sanford Health prior to beginning the program.
Locations:
Sanford Health offers student nurse experiences throughout our footprint in Minnesota, North Dakota, South Dakota, and Iowa:
Bemidji and surrounding area
Bismarck and surrounding area
Fargo and surrounding area
Sioux Falls and surrounding area
Many rural Sanford facilities also offer a Summer Nursing Intern experience. These locations offer experiences in Critical Access Hospital; Long Term Care; and Ambulatory settings. These opportunities will enable you to witness the Rural Nurse Generalist nursing role with its broad autonomy and responsibility, work with an interprofessional healthcare team, utilize your critical thinking skills, and have access to professional development and support networks that will help develop both your clinical and leadership skills.
Work/Class Schedule
Students are expected to:
Participate in the entirety of the 10-week program, including required classroom sessions.
Work full-time (36-40 hours), including nights, weekends, holidays and 8-, 10-, or 12-hour shifts for the program duration (following your designated preceptor's schedule).
Additional opportunities for observation outside your assigned department may be provided.
Work Department
Sanford Health offers opportunities in several areas of care. Upon selection into the program, you will be notified of your work unit/department assignment. Consideration will be given to your desired work units.
Housing
If you should require assistance securing housing, please contact local colleges or universities, as they often rent space to students over the summer.
Additional Benefits
Program participation provides you:
Sanford Health 401k retirement as a PRN employee
Worker's compensation insurance coverage
Sanford's libraries and training resources
Sanford Perks (Discounted tickets to local merchants and activities in the various regions where Sanford Health is present)

Requirements
Applicants must complete an online application at https://sanfordcareers.com/
Participants will have completed their third year of a baccalaureate nursing program and a minimum of two semesters of clinical experience prior to the internship experience
ADN/ASN considered for rural Sanford Health Network locations
Submission of an accumulative transcript including your most recently completed semester at time of application
Proof of enrollment in a board of nursing approved internship class if accepting an offer in North Dakota or Minnesota
Prior experience as a nursing assistant is not required.

FAQs
What does Sanford Health have to offer student nurses interested in a summer internship?
Sanford Health offers student nurses a premier opportunity to make a difference for those we serve while being mentored by a RN in his/her specialty and earn a salary. As a nurse intern you have the opportunity to participate in a 10-week summer Student Nurse Internship Program that typically begins in late May/early June. This experience will help you develop competence with technical skills, build confidence in your ability to assume the role of RN upon graduation and participate as a member of the interprofessional team.
What patient care areas are available for interns?
A wide variety of patient care settings host summer nurse interns at Sanford Health Medical Centers (Bemidji, Bismarck, Fargo, Sioux Falls) and rural health hospitals. Placements include medical surgical and specialty departments along with rural health sites in Iowa, Minnesota, North Dakota and South Dakota. Every effort is made to place you in the clinical setting that aligns with your career goals, whenever possible. Nurse interns will be placed into specific patient care area(s) for the duration of the summer. The specific patient care area(s) will be determined at the time of a job offer. Internship locations may include:
Acute care placements
Sanford Bemidji Medical Center (Bemidji, MN)
Sanford Medical Center Bismarck (Bismarck, ND)
Sanford Medical Center Fargo/Broadway/South University (Fargo, ND)
Sanford Health USD Medical Center (Sioux Falls, SD)
Birth Place (ex. Antepartum, L&D, Postpartum)
Central Resource Pool (Maternal Child, Med Surg, Critical Care)
Critical Care
Emergency Department
Medical (ex. Cardiology, Pulmonary)
Medical-Surgical (ex. Orthopedics, Neurology, Renal)
Neonatal Intensive Care Unit (NICU)
Oncology
Pediatrics
Pediatric Intensive Care Unit (PICU)
Psychiatric (Bismarck & Fargo only)
Rehabilitation
Surgical (ex. Post-op Inpatient)
Surgical Services (Pre-op, Intra-op, Post-op)
Rural location placement
Sanford Aberdeen Medical Center (Aberdeen, SD)
Sanford Canby Medical Center (Canby, Minnesota)
Sanford Chamberlain Medical Center (Chamberlain, SD)
CHI St. Alexius Health Dickenson Medical Center (Dickenson, ND)
Sanford Hillsboro Medical Center (Hillsboro, ND)
Sanford Jackson Medical Center (Jackson, MN)
Sanford Luverne (Luverne, MN)
Sanford Mayville Medical Center (Mayville, ND)
Sanford Sheldon Medical Center (Sheldon, IA)
Coteau Des Prairie Health Care System (Sisseton, SD)
Sanford Thief River Falls Medical Center (Thief River Falls, ND)
Ortonville Area Health Services (Ortonville, MN)
Sanford Vermillion Medical Center (Vermillion, SD)
Sanford Webster Medical Center (Webster, SD)
Sanford Wheaton Medical Center (Wheaton, ND)
Winner Regional Healthcare Center (Winner, SD)
Sanford Worthington Medical Center (Worthington, MN)
What does the work schedule look like for a summer nurse intern?
All dates are still tentative, but orientation/program start for all new nurse interns will likely be late May/early June, provided virtually and in-person at the LEAD Centers in each region (Bemidji, Bismarck, Fargo and Sioux Falls).
Following orientation, the summer internship is ten weeks in length continuing into early August. Student nurse interns are expected to complete fulltime hours each week; scheduled a minimum of 36 hours and limited to a maximum of 40 hours per week (1.0 FTE)for a summer total maximum of 400 hours.
The nurse interns' work schedule will match that of their assigned mentor(s). The majority of nurse interns will work rotating 12-hour day/night shifts (7:00 AM-7:30 PM or 7:00 PM-7:30 AM) with weekend commitments. Some nurse interns may also be assigned to work straight night 12-hour shifts (7:00 PM-7:30 AM).
The work schedule details will be determined at the time of preceptor notification in late April/early May. Interns are expected to participate in the full ten-week program to include both didactic and clinical components. Enrollment in an independent study course is required in Minnesota and North Dakota locations. A professional development component is offered for South Dakota participants.
Please ensure you do not plan vacations or have other employment that may interfere with your internship schedule. Only pre-approved and minimal time off will be honored (for significant life events only).
What is available for nurse interns placed at a rural health experiences?
A rural health internship offer interns a well-rounded learning experience setting a strong foundation to begin your nursing career. This setting provides you opportunities to work in multiple departments and care for all age groups from birth to adults and elderly in most locations.
What is the dress code/uniform for the Sanford internship?
Student nurse Interns wear a white scrub top and navy blue scrub bottoms. You may wear a long sleeved top underneath in white. The nurse interns assigned to Peds/PICU may wear kid-friendly scrub tops with navy pants, those in surgery/OR and the Birth Place will wear hospital provided scrubs. You may choose to wait until you have your ID badge to purchase, as Sanford employees receive a discount at local uniform vendors.
Is housing provided for the program?
Housing is not provided for nurse interns. If you require assistance securing housing, please notify the program coordinator for resources.
What certification is required for BLS/CPR to participate in the program?
American Heart Association Basic Life Support for Healthcare Provider is required. You must come with a current card through August each year. Red Cross or other providers are not accepted.
What is the hourly rate of pay/salary?
The rate of pay for the internship is reviewed annually and is shared when the position is offered.
Do opportunities exist to extend the internship beyond the 10-week summer experience?
Sanford Health offers an extended student nurse internship for eligible interns during the academic school year. A limited number of positions are available to interns that participated in the initial 10-week summer program. Not all interested interns are able to participate due to limited positions. The number of positions and program criteria is re-evaluated annually.
Reasons to Participate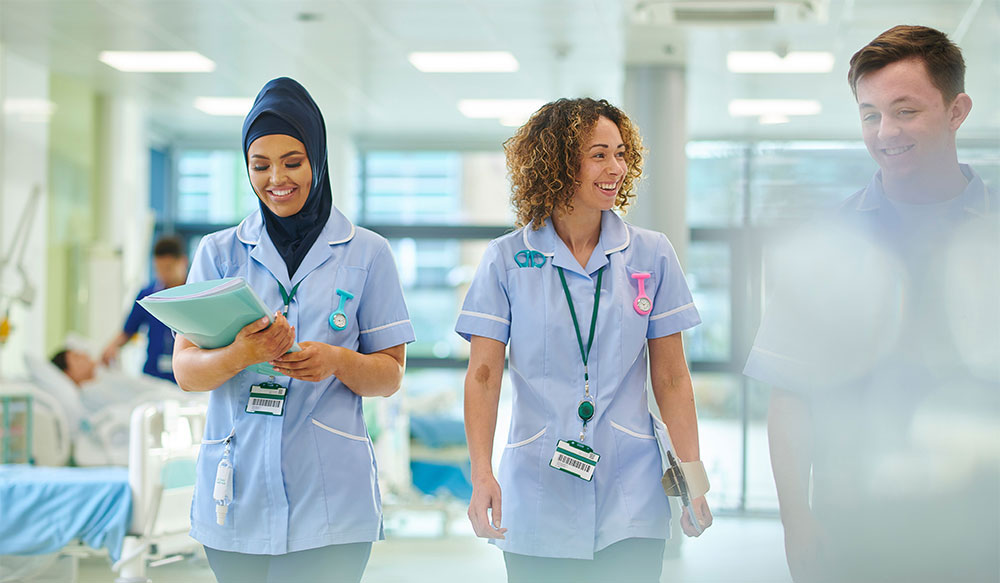 Gain experience and skill within actual patient care situations within a large healthcare organization.
Participate in professional development sessions.
Work in partnership with an RN preceptor serving as a personal clinical coach.
Apply didactic knowledge to clinical practice.
Develop an increased level of competence and confidence.
Mature interpersonal, clinical judgment, and technical nursing skills.
Network with peers from other colleges and universities regionally and nationally.
Apply to participate in the Extended Sanford Student Nurse Internship Program until graduation.
Build a relationship with a future employer.
Leverage knowledge and skills gained to transition quicker into independent practice.
Scholarships and Sponsorships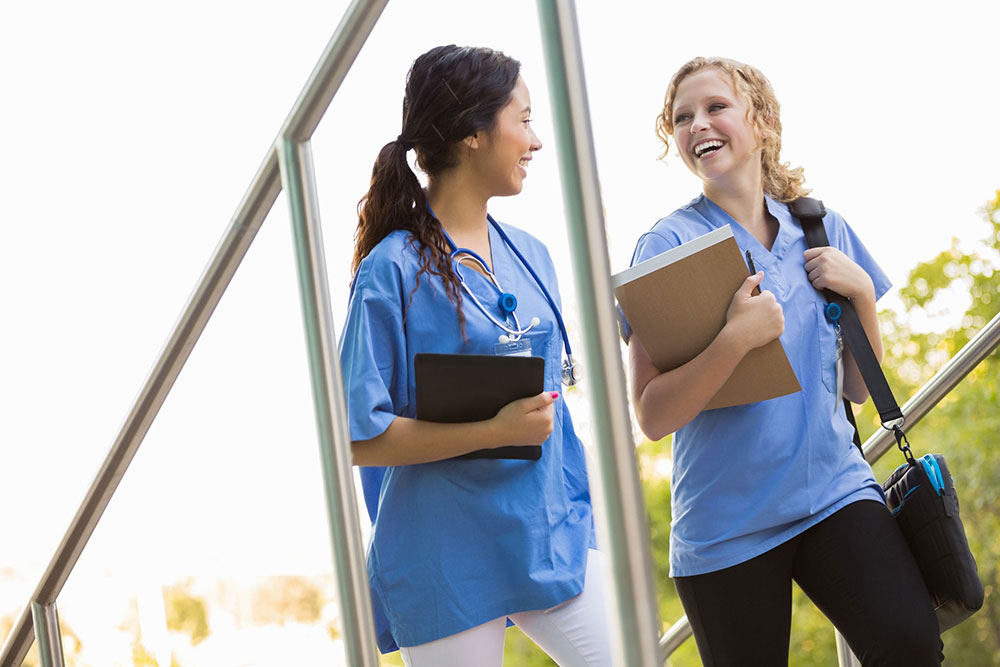 We are dedicated to supporting students pursuing careers in healthcare and have partnerships in place with many schools across the nation. If you're interested in getting your license or certification as a CNA, LPN, or RN, we have many scholarship and sponsorship opportunities in place to help breakdown financial barriers and enable you to reach your fullest potential through education.
Don't let the cost of school prevent you from pursuing your dream career. Click below to learn about and apply for one of our programs.
Nursing Student Resources