Administrative Fellowship Program
Training Future Health Care Leaders
Sanford Health is proud of how much we've grown as one of the top health care organizations in the country. To continue our progress, we're investing in and cultivating the development of future leaders. Our fellowship helps young professionals successfully transition from academia to the realities of leading a modern health care system.
Our fellows do real work and make real contributions and change that can ripple across our organization and the communities we serve.
See more information on the Administrative Fellowship Program below. If you have questions or would like more information, please send your inquiry to adminfellowship@sanfordhealth.org.
Learn More
The Administrative Fellowship Program is a 12-month rotation and project-based program. It combines structured rotations with the opportunity for fellows to play an active role in designing their fellowship experience. Structured rotations allow fellows to develop a well-rounded understanding of the inner workings of each department while networking with leaders across the organization. Fellows build on this foundation throughout the remainder of the program as they work with their executive mentor to identify project opportunities that benefit their professional development and have a meaningful impact on the organization.
In addition to project work, fellows will have the opportunity to rotate in elective areas of interest, including those unique to Sanford Health like Sanford Imagenetics and Sanford World Clinic. This structure allows fellows to explore a wide range of administrative areas while experiencing the mission-driven culture of Sanford Health's leadership.
We offer:
Exposure to a large rural health system
Executive mentoring
Career Coaching
Opportunities to attend senior leadership and organizational meetings
Professional development opportunities
Competitive salary and benefits
Submit any questions to adminfellowship@sanfordhealth.org.
To join the Administrative Fellowship Program, applicants must have these qualifications:
Must have received or have completed coursework and are on track to receive a master's degree by spring 2023
Must graduate within six months of the start of the fellowship
Must have a master's degree in a field related to health care (MHA, MHSA or MBA with health care emphasis) from a CAHME/AUPHA accredited program
Involvement in a professional organization in health care or health care administration is preferred
Health care experience is preferred
Sanford Health does not sponsor visas for the Administrative Fellowship Program.
Applications for the Sanford Administrative Fellowship will be collected through sanforcareers.com. We are currently not accepting applications for 2023.
Application requirements:
Application
Resume
Transcript from Master's program
Personal Statement
Three letters of recommendation (1 Academic, 1 Professional, 1 Personal)
These letters will need to be emailed to adminfellowship@sanfordhealth.org by the application deadline.
For further inquiry, please email adminfellowship@sanfordhealth.org.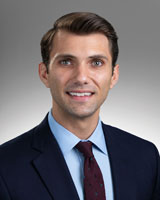 William Holcomb, MHA
Fargo, MD
William Holcomb received his bachelor's degree in Kinesiology from Mississippi State University. After performing a summer internship in cardiac rehabilitation, William knew that he wanted to pursue a career in healthcare. After deliberating between physical therapy school and healthcare administration, he chose to pursue a Master of Health Administration degree at the University of Memphis. Administrations ability to impact every single area within a healthcare organization was ultimately the deciding factor in William choosing health care administration over physical therapy.
As a graduate student at the University of Memphis, William received an Administrative Residency at Baptist Cancer Center. This Administrative Residency overlapped with the first year of COVID-19; therefore, he was able to actively participate in the rapidly changing decisions regarding operating a cancer center in the midst of an unprecedented pandemic. This experience at Baptist Cancer Center cemented his desire to pursue an Administrative Fellowship within executive hospital operations.
Growing up in small-town Mississippi, William narrowed his fellowship search by organizations with a rural healthcare focus. Sanford Health in Fargo quickly became a top fellowship choice due to the wide array of comprehensive service lines offered in Fargo as well as the rapid growth that Fargo has experienced in the past several years.
"This fellowship has already offered me a vast array of learning experiences via projects ranging from pediatrics, human resources, facilities, the emergency department, and the Roger Maris Cancer Center," he says. "The ability to work on projects in such a variety of departments is an immeasurable experience in terms of the amount of value it has already added to my professional development."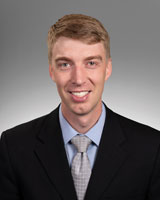 Joshua Smith, MHA
Bemidji, MN
Joshua Smith attributes his dedication to healthcare to his mother. Because of her influence, Joshua pursued his undergraduate degree in Public Health from Brigham Young University in Provo, Utah. Upon graduation, he gained valuable administrative experience at physical therapy clinics while continuing his education. Joshua received a master's degree in healthcare administration from George Mason University in Fairfax, Virginia.
During his graduate studies, Joshua learned of Sanford Health's administrative fellow program. Joshua recognized the fellowship at Sanford as being a rare opportunity to experience many service lines and to identify how those departments work and interact together as a part of a larger healthcare delivery network.
"By working alongside Sanford leadership I have been able to observe and develop in ways not possible in a traditional role," states Joshua. "I am most impressed by the intensity of the leadership's concern for patients and their desire to serve the community. These are values I also hope to build upon."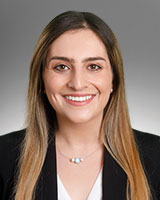 Gabrielle Abouassaly, MHA
Bismarck, ND
Gabrielle Abouassaly graduated from the University of Iowa with a bachelor's degree in human physiology and master's degrees in public health and health administration.
"I have always been interested in health care and explored various careers in the field," she said. "Understanding how administration can help support an organization's mission, operations, and those who provide care in so many different ways drove me to pursue this path."
She chose Sanford Health due to its focus on family and the organization's ability to serve both urban and rural populations.
"During my education, I worked with organizations that focused on supporting rural health. From these experiences, I have seen how rural communities without a strong health care presence can really struggle. Sanford Health not only helps provide care across rural states, but also does so with intention."
Since beginning her fellowship, Gabrielle has had the opportunity to work closely with the Bismarck leadership team and dive straight into various projects. "This fellowship has provided me with a wide range of experiences and opportunities that have helped me to grow as a teammate, leader, and person," she said. "The knowledge gained from my time in this program will carry with me throughout the rest of my career."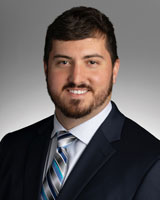 Spencor Luze
Sioux Falls, SD
Spencor Luze received both his undergraduate degree in Health Sciences and graduate degree in Health Services Administration from the University of South Dakota.
Spencor grew up in healthcare, recalling spending time in a small community assisted living facility where his mom worked. As he grew, he worked in various roles in the facility as well as others during college. It was through these roles that Spencor found his desire to pursue a career where he impact the patients and residents he had served on a much larger scale.
Spencor learned about the fellowship opportunity through coaching with ASPIRE by Sanford. "I learned that the fellowship would expose me to how we function as a team throughout the organization and how leaders can influence this collaboration," states Spencor. "The remarkable support and professional growth, as well as unprecedented access to leadership will provide me with a solid foundation for a career in healthcare. This experience has and will continue to influence my career as a leader. It's all about engaging the right people, in the right spaces, to ensure they have the biggest impact on how we perform and grow as an organization."
| Year | Fellow | Graduate School |
| --- | --- | --- |
| 2020-2021 | Ann Drvol | University of Minnesota |
| | Taylor Howard | Weber State |
| | Kathryn Kunkel | University of South Dakota |
| | John LaFazia II | Weber State |
| | Brianna Sparks | University of South Dakota |
| | Tyler Ust | University of Iowa |
| 2019 – 2020 | Jeremy Coss | University of South Dakota |
| | Eduek Inyang | Texas A & M |
| | Jentz Painter | University of Utah |
| | Joseph Snyder | St. Louis University |
| | Andrew Wilkes | University of Utah |
What positions do Administrative Fellowship Alumni hold at Sanford Health?
Director of Clinic Operations
Service Line Director
Strategic Planning Advisor
Human Resources Advisor
Lead Business Development Specialist
Clinician Experience Specialist
Sanford Administrative Fellowship News